Clip-On MigraLens is a fit-over unisex frame
Simply squeeze the padded-spring clip and place on top of your prescription glasses. Clip-Ons are the easiest way to keep a pair of MigraLens nearby on a day out

A hard case and a microfibre cloth are included with purchase
---
About MigraLens
Better Than Blue Light Blockers
MigraLens lenses block more of the blue and red light wavelengths proven to trigger or worsen Migraine, chronic headaches, photophobia, post-concussion syndrome and traumatic brain injury


Superior Filter
91% of trialists in a peer reviewed study preferred MigraLens over their current tinted glasses used for headache and Migraine relief


Trusted
MigraLens are the only off-the-shelf migraine glasses endorsed by the Migraine Action Association, National Migraine Centre and RNIB


Lightweight
Maximum relief with minimal pressure on your head
Customer Reviews
08/26/2021
Anne H.

United Kingdom
High quality product
I bought the clip on migralens to help cope with bright glare and flashing images when watching television, and it has really helped for this purpose. I suffer with chronic migraine, and am extremely photosensitive, so using the clip on lenses over my distance glasses makes watching TV much more comfortable. I haven't been using them long enough to know whether they will make the migraines less frequent, but fingers crossed!
08/01/2021
Brooke L.

United States
my literal savior
I wanted to wear these for a little longer before writing a review, but these are honestly just so great that I don't need to test them any longer. I've always struggled with being unable to find sunglasses that actually helped me with my issues with brightness outdoors, they would usually just make it harder for me to see instead of helping. But these glasses are so so so helpful, I can actually go outside on a sunny day without straining and hurting my sensitive eyes and getting cranky now. I seriously used to avoid going out on sunny days because of the sun reflecting off of every surface ever and blinding me and hurting my eyes, but I don't have to anymore thanks to these glasses. The green tint takes a little to get used to, but regardless I am so grateful to have found these glasses. These glasses also really help for when using bright screens that can't adjust their brightness at night in dark rooms! They work so much better than the "night-shift" option on most computers, just make sure to take them off if you step away from the computer. I really cannot overstate just how happy I am with these glasses. The only thing I would have to complain about was the shipping time. When I ordered, it said shipping would take 1-3 days, but it took two weeks to arrive. Usually though this doesn't have to do with the seller themselves and they have no control over the shipping company, so this isn't a complaint for them. I'm sure there are many possible reasons for why my shipping took so long, it is just a little worrying when something says it'll arrive in 3 days and then it takes 2 weeks. But anyways, this was quite a long review, probably the longest one I've ever written. So, long story short, if you have light sensitivity or photophobia or maybe sunglasses just don't quite cut it for you, please get these glasses. You will be glad you did!
07/12/2021
Suparno D.

Germany
Really good so far
I just ordered this product from Germany. The delivery was seamless and fast. The clip on Migralens was nicely packaged. I have been using it almost every day since last few weeks and I feel it makes it easier for me to look at computer screens for longer. I am quite sensitive to the lights from monitor and unfortunately I need to look at screens for long hours everyday. I need to see how it works in reducing the headaches in the next months. But if it does manage to reduce the frequency of headaches I will definitely order a few more of these.
Thank you Suparno! We have paused our shipping to the EU but hope to be back delivering to Germany and beyond very soon. Please be in touch if you would like to order some more glasses!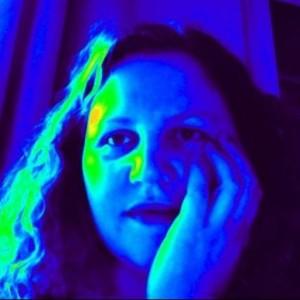 HD
06/23/2021
Hannah D.

United Kingdom
What a good idea!
I've been loving having these clip on lenses. I have light sensitivity when experiencing a migraine, and often then can't work or do anything other than be in a dark room. I've found wearing these has made a significant impact on the severity, duration and impact of my migraine. When you put them on everything looks very funny for a bit because of the filters, and suddenly your brain "clicks" and things look ok. When you take them off the colours all look odd for a while and then it goes back to normal. They are quite large, so if you wear small glasses they may not be the choice for you. But I'd recommend them to see if this type of filter would help. It's certainly been diagnostic for me. I like that their clip on mechanism is quite "soft" so I feel it won't scratch my frames or lenses. I'd ideally like them to clip on a little more firmly as I find they slide down a bit and bump my cheek, but that may just by my face shape or glasses style. I like that they are large so they do cover my glasses and mean I'm getting a proper benefit from the filters. To be perfectly honest they're not the most attractive thing I've ever worn, but I have to say when the choice is blinding pain, being unable to see never mind work versus wearing some funny green glasses then I'd choose these any day. Plus I can pretend to be visiting the Emerald City which amuses me greatly. I've suffered from migraine since I was 10, and I'm now in my forties. If you have any light sensitivity I'd really recommend giving these a go. There's quite a lot of independent research that says that filters can have a big effect on migraine so you've not really got anything to lose. By the way, I have in no way been asked to write this for MigraLens. I just genuinely think you should try them.
Thank you so much Hannah!
05/27/2021
Marie

United Kingdom
No more photophobia
I bought the clip on's to wear over my prescription Varifocals. I suffer with chronic migraines and photophia, even without the sunshine but on a bright day my eyes really ache a lot, I had wanted to try to these lenses for a long time. They really do help with brightness and definitely help when I watch tv. It didn't take me long to adjust to the colour and they clip onto my glasses absolutely fine.
Thank you for the review Marie!